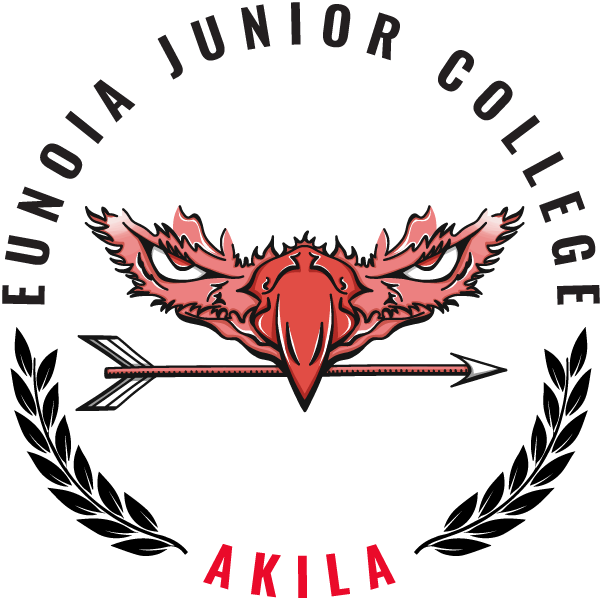 Young Eaglets of Akila,
Within your wings there is limitless potential to soar to untold heights. After all, we are the only creatures here blessed with the gift of flight. We can surmount any obstacle, we can transcend any frontier, we can rise above any mountain. This power we have always used for good: our sharp sight to watch for trouble in the lands below us, our lofty position to guide and rule with wisdom and kindness. It is our wish that you carry on this legacy as the most gifted and able from your land. Despite our diversity, we hope that you will unite, using our strengths to protect our aerie and making sure that no eagle is left behind. Together we conquer the skies!
Your House Masters
Mr Daniel Kwan and Mr Justin Lim
Identity
HOUSE EMBLEM
The eagle is a symbol of power, freedom and transcendence.
HOUSE CHEER
Akila, who are we?
Who who who are we?
Ah Ah Akila!
Who who who are we
Ah Ah Akila!
Akilaaaaaa
I said brr it's cold in here
There must be Akila in the atmosphere
I said brr it's cold in here
There must be some eagles in the atmosphere
I said sst it's hot in here
There must be Akila in the atmosphere
I said sst it's hot in here
There must be some champions in the atmosphere
Ah-akila ah-ah-akila
Ah-akila ah-ah-akila
Committee
HOUSE MASTER




Mr Daniel Kwan







ASSISTANT HOUSE MASTER




Mr Justin Lim







HOUSE CAPTAIN




Phoon Jing Bhin (22-A4)







HOUSE VICE-CAPTAINS




Denzel Tan (22-A3)




Eleanor Cheak Yu Xin (22-A5)





HOUSE REPRESENTATIVES




Phoenix Niew Yun Hng (22-A1)




Yuan Xinyi (22-A1)




Xavier Lam Jing Kai (22-A2)




Sarah Ong Lee Choo (22-A2)




Claresta Cheong (22-A3)




Chew Jun Jia, Clarence (22-A3)




Li Xuanming (22-A4)




Gun Jo Ken (22-A4)




Tan Xuen Rong, Tricia (22-A5)




Justin Matthew Lau Rui Jie (22-A5)




Chan Jun Ze, Javier (22-A6)




Letitia Angele Lau Tingxi (22-A6)



History
PAST HOUSE CAPTAINS




Lee Ying Long Xavier (17-A4)




Yeo Shin Loong (18-A1)




Yeo Yu Chen (19-A3)




Lim Tian Le (20-A2)




Chia Shao Jun (21-A5)







PAST HOUSE VICE-CAPTAINS




Dean Tay (17-A3)




Ko Hui Ning (17-A4)




Cara Sun (18-A3)




Eugene Lian (18-A4)




Nicole Liew (19-A3)




Janelle Tang (19-A6)




Li Siqi (20-A6)




Ng Yu Min (20-A4)




Shanice Yeo Kai Ting (21-A1)




Avril Lim Si-Ying (21-A1)





PAST HOUSE MASTERS


Ms Bernice Yeo
Ms Wendy Lau