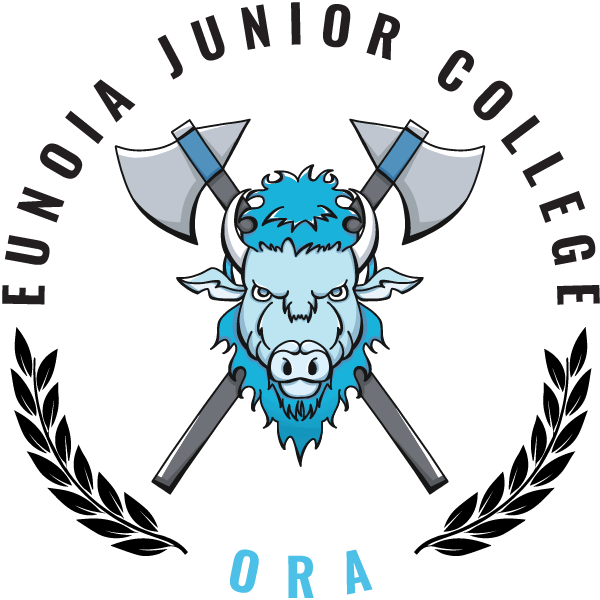 Welcome to the Ora family!
Our strength is drawn from the mighty bison, majestic and steadfast, yet strong and agile. You are now part of a legacy of Eunoians who are united and formidable. Leading the charge, we strive for excellence.
Ready to conquer any obstacles and challenges, we will face all adversity with grit and determination to reach heights beyond our wildest dreams. Hand in hand, we overcome the highest mountains and deepest valleys.
Are you ready to join the ranks of Ora? Together, we will build a house culture and spirit that will become your home and family in Eunoia. Unity! One with the Herd!
Your House Masters
Mr Alson Yong and Mrs Charlotte Lee
Identity
HOUSE EMBLEM
The bison is a symbol of agility, determination and family.
HOUSE CHEER
KNOCK KNOCK!
WHO'S THERE?
5-6-7-8!
EHHHHHH EHH EH
Ora Ora is the best
Ora Ora beat the rest
EHHHHHH EHH EH
Watch us bring you down in flames,
This is what the winners say!
Ora Ora Ora Ora Ora (x2)
OHHHHHH
Go Ora, go go Ora (x2)
Ora ohana Ora ohana Ora ohana Ora ohana
KAMATE KAMATE HOO
KAMATE KAMATE HAA
Committee
HOUSE MASTER




Mr Alson Yong





ASSISTANT HOUSE MASTER




Mrs Charlotte Lee





HOUSE CAPTAIN




Andrea Gracia Andradi (22-O1)





HOUSE VICE-CAPTAINS




Wee Yuet Tung (22-O3)




Isaac Yong Yeow Keat (22-O5)

HOUSE REPRESENTATIVES




De Souza Keira Ann (22-O1)




Tahseenah Reaz (22-O1)




Or Rae Ting (22-O2)




Chew Chang Kai (22-O2)




Beatrice Jong Wen Qi (22-O3)




Chang Su-Ann (22-O3)




Ang Jing Yi (22-O4)




Teh Shu Ting, Hannah (22-O4)




Li Shuheng (22-O5)




Leong Yi Xin Cherie (22-O5)




Chong Wei Kit Xavier (22-O6)




Josh Chua Yi Jie (22-O6)
History
PAST HOUSE CAPTAINS




Angelique Chia Rui Yi (17-O2)




Koh Zi Yi (18-O2)




Lee Xin Chun (19-O4)




Yanisa Kee (20-O5)




Isabel Hikaru Yamada (21-O1)







PAST HOUSE VICE-CAPTAINS




Lai Shu Ying Nicole (17-O1)




Kairos Koh Jia Jun (17-O4)




Lucas Ng Jinn Hern (18-O3)




Aye Chan Khin (18-O4)




Clement Hooi (19-O1)




Jadyn Chua (19-O2)




Deon Loke (20-O1)




Colette Hu (20-O4)




Benjamin Ho Boon Hao (21-O3)




Im Sing Lu (21-O4)

PAST HOUSE MASTERS




Mr Jeffrey Ha




Ms Emeline Choo




Ms Sandra Chan




Mr Jonathan Lee




Mr Allen Lee